Be slightly maverick
#17 - A new beginning
About | Previously on...
Hello,
I'm going to say it up front: I'm changing this newsletter name to "Slightly Maverick" — more on this bellow.
---
Now is this time of the year when with more or less social pressure, you're forced to look back to the year that passed and look forward to what's coming.
Some people look back and do full-on year reviews, others look forward and come up with predictions, others revise the best books they read or establish commitments for the year ahead.
We don't really need to go over 2020 and how <insert adjective> it was, right?
I can tell you that I got a dog even if that was on my anti-bucket-list. I started working out regularly with a personal trainer. I gave birth to this newsletter to force me to write and think in public (17 editions 💪). Joined an online community to go beyond social media. What else? Well, I won't bother you with more.
For those that didn't lose their job or, worst, a relative to COVID-19, I think we will remember 2020 as quite a unique year. Maybe even as an inflection point in one way or the other.

What about 2021?
I stretched myself and contributed to the memesphere with these 2 memes:
Me and 2021
imgflip.com/i/4ri2t1
via
@imgflip
#2021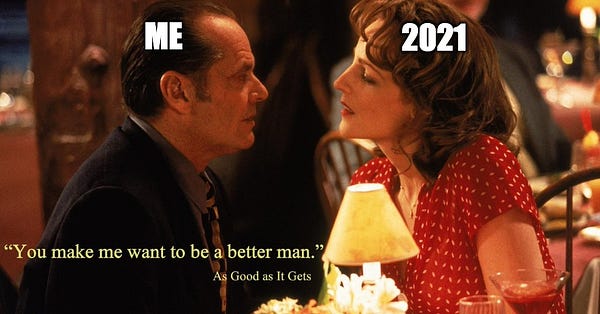 Me and 2021
An image tagged as good as it gets,jack nicholson,2021
imgflip.com
Be slightly maverick
In the mood of looking back and reflect, I took some time to think about this newsletter. What is it? Who is it for?
When it started I didn't know what was going to be, but I had to write something on the about page:
But what is it about? Not sure. One, some or a mix of the bellow - we'll find out:

I'll update this once I can look back and explain what is happening here. But you know "past performance does not guarantee future results". Maybe you can take a read and tell me - and all of us - what is it about.

Anyway, this is what I thought some time ago:
Some ideas just need to get out of my mind and into the world so they can eventually mate other ideas have other baby ideas and eventually make a difference.

Ideas? Maybe not - maybe some musings, half-backed thoughts, conversation starters,… anyway it would be good to connect, personally, over email with no algorithm to mediate and manage your bubble.

This is a selfish exercise to work on some ideas and feed my loop of learn -> write -> connect

It will probably reflect my interests about Humans and Systems (#notetoself need to write about what does this mean)

Most of it still holds. But I think I can look back now and see "what is happening here" and look ahead to what I want it to become.
I want to take an alternative and insightful look at the common organizational challenges.
We need to change the status quo. And that change starts from taking a different perspective on old problems. It is not about being right and having a solution. It is about poking acceptable beliefs and offer a different point of view.
Zag
I'm inspired by the famous Levis ad by BBH London - "When the world zigs, zag".
It is not about being a contrarian. I find them a bit annoying.
It is about realizing that being the white sheep is easy, comfortable but doesn't add any value and perpetuates the status quo.
It is about being brave enough to be the black sheep. To take a different direction, a new perspective. To be ok with being proven wrong, to be looked at with suspicion and criticism.
The Maverick
The world Maverick came to mind, and I went to look for a definition:
Maverick: an independent individual who does not go along with a group or party -Merriam-Webster Dictionary
Maverick: a person who thinks and acts in an independent way, often behaving differently from the expected or usual way - Cambridge Dictionary
I reckon that we need more Mavericks!
We need to be "slightly maverick".

Why slightly? Because it is about tilting the playing field, to poke the status quo. Disruption rhymes with revolution, and that can mean the destruction of the past. We have come a long way, and our realities are full of amazing things that we didn't have before, and we don't need to tear them down. We don't need a massive extinction to continue to evolve. But either we can't sit comfortably on top of our privileges and accept that everything is fine.
We need Mavericks. Our organizations need Mavericks:
to poke the future and the unthinkable

to see what others don't

to make the embarrassing questions
We need to welcome, nurture, and protect the Mavericks.

The Corporation-man
If the Maverick is the hero, who's the villain?
Not that we're at war, but every great story needs a hero and an antagonist.
Our hero will face opposition and sometimes hostility from the Corporation-man (Corp-man). Think of it as the typical career-ladder-climbing executive.

The Corp-man has an unfair advantage. He is trustable, predictable, and they are the majority. Their managers are probably like-minded Corp-men that feel comfortable being with and promoting others like them. The Corp-man is the status quo. They create and nurture the status-quo.
Mavericks sound strange, a menace to the status quo that they are protecting. If they are not shut-down, they are ignored or seen as just interesting animals to have around, to shed some color to the room.
The Maverik is a misfit, a thorn in the Corp-man side.
Our organizations are designed so people "fit in". We talk about cultural fit. We end discussions suggesting that we "disagree and commit" and feel that we heard everyone. We value internal predictability because the external world is already too unpredictable.
What now?
This newsletter now has the ambition to become Slightly Maverick — to poke your thinking, challenge you, and the status quo.
Maybe you identify yourself as a Maverick, or maybe not. That's not the point.
Sometimes you will agree, sometimes you won't. That's fine.
It's about the discussion. It's about the possibilities. It's about a generative conversation, not a zero-sum-game battle of arguments.
---
Thanks for reading,
Hugo